Gerade kommen wir zurück aus Blye von der Vollständigen Übertragung der Schätze von Pema Lingpa, Pedling Chökhor.
Es war eine wunderbare und tiefgründige Zeit mit Gangteng Rinpoche für uns alle. Wir freuen uns auf das nächste Jahr, wenn er uns die noch fehlenden Übertragungen und die dazugehörigen Lungs, die Leseübertragungen für die Texte gibt. Die Veranstaltung ist für alle offen.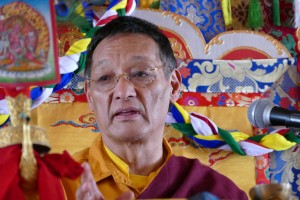 Gangteng Tulku Rinpoche
Moskau vom 13. Oktober bis 27. Oktober 2017
13. bis 15. Oktober 2017
The Thirty-seven Practices of Boddhisattva
17. bis 27. Oktober 2017
Guhyagarbha Tantra
Dear friends! 
It is with great joy that we announce that H.E. Gangteng Tulku Rinpoche will bestow teachings on Guhyagarbha Tantra inMoscow, Russia during October 2017.
Guhyagarbha Tantra – is the principal tantra of Maha Yoga, the main tantric text, which is studied in the Nyingma tradition of Tibetan Buddhism. In this tantra the ten topics are fully described, which constitute the path of Vajrayana, such as the View, Samadhi, Conduct, Mandala, Initiation, Samaya and others. In the Nyingma tradition this tantra is regarded as the head of all others; it can be interpreted as from the viewpoint of Maha Yoga, and as a source of Ati Yoga.
The tentative schedule of the retreat:
13-15 October
Open teachings in Moscow on the Thirty-seven Practices of Boddhisattva
17-27 October
Teachings on Guhyagarbha Tantra in Kunsangar
Before the start of the teaching, Rinpoche will bestow the first part of Initiation of Guhyagarbha Tantra. The English translation will be provided. The teaching on Guhyagarbha will continue on the next years.
Conditions for taking part in the retreat
For listening to the teachings on Guhyagarbha Tantra it is necessary to receive the empowerment, granted during the first days of the retreat. It is necessary to be present on the retreat in consecutive order: it is not allowed to miss any days. Also for listening to the teachings in the next years, it is necessary to receive the previous parts.
For our foreign guests
We are glad to welcome all of our dharma friends from any other country. The Russian visa application process is not very difficult. As in previous years, we are ready to help with preparing invitations to Russia, if needed. Also, if you tell us your time of arrival, we will help you to get to the place of the retreat. The detailed information about the retreat will be published on our website: www.yeshekhorlo.ru For any questions please contact yeshekhorlo.russia@gmail.com. See you on the retreat!
20th July   Delhi – Ukraine      Arrival Ukraine 
22nd- 27th July    Ukraine     Public talk (Dharma & Pema Lingpa
                                                Teaching on Ngöndros
                                                Guru Rinpoche wang
                                                Amitayus wang
                                                Khandro Tuktik wang (cycle of Dudjom tersar)
28th July            Estonia        Travel to Estonia and rest
29th-30th July   Estonia        Teaching program or wang to be defined 
31st July                                 Travel to Blye (Genova airport) 
1st-4th August     Pema Yang Dzong     Preparation for Pedling Chökhor 
5th-25th August     Pema Yang Dzong     PEDLING CHOKHÖR 
26th-28th August      Pema Yang Dzong   Rest
29th-31th August       Travel to Zurich and visits 
1st September           Zurich    Evening : Public talk on Peling lineage and Dzogchen practices 
2nd September           Zurich     The Lion's Roar (text of Jigma Lingpa) 
3rd September            Zurich   Chöd empowerment 
4th September            Zurich    Visits 
5th September             Travel to Paris 
6th-7th September       Paris     Teaching « A Lamp to Dispel Darkness » (Mipham Rinpoche) 
8th September             Paris    Visits
9th September             Paris   Departure for Delhi (evening)